Online Thriller School
---
ITW's Ninth Annual Online Thriller School!
The 2022 Online Thriller School is sold out. If you would like to be put on a waiting list for next year's class (2023) please email Christopher Graham at ITWOnline@thrillerwriters.org.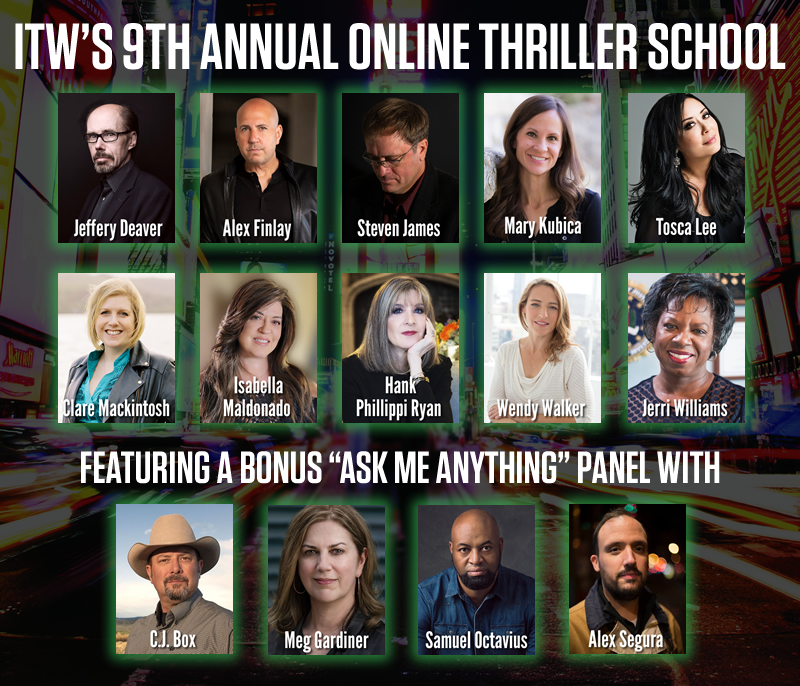 In this TEN-week program, which begins September 13, 2022, the craft of thriller writing will be front and center. Each instructor will teach an aspect of craft during a live Zoom session, will provide written materials for further reading along with study suggestions (when applicable), and will offer an entire week of online Q&A with the registered students. Classes will be held every Tuesday at 2:00pm Eastern.
The goal is simple: To make each student a better writer.
Attendance is limited, and we sold out last year, so please register today! – SOLD OUT
Registration for the ten-week online course is $495.
The talented instructors will delve into the following topics: Red Herrings, Reversals, and Twists; Creating Compelling Characters; Setting: How to Create Your Story World; FBI Myths and Misconceptions; The Thriller Writer's Toolbox; All About Dialogue; How to Nail Structure; Fundamentals of the Action Scene; First Pages: How to Hook Your Reader; and, Pacing: How to Keep the Pages Turning!
Also including the bonus panel:
"Ask me Anything" with C.J. Box, Meg Gardiner, Alex Segura and Panel Master, Samuel Octavius
Below you will find the full 2022 schedule, FAQ, and instructor bios.
Please note: if you are unable to attend any of the live classes they will all be recorded. The recordings are typically available within a few hours of the conclusion of the class, and we make those available to the students right away. You'll also have access to the recordings for at least 1 year after the class is over.
Scroll down to read the entire FAQ and if you have any questions that are not addressed below please email ITW's Technology Coordinator, Christopher Graham at ITWOnline@thrillerwriters.org.
---
Advice From Past & Current Thriller School Instructors:
"To be satisfying, a twist needs to be more than merely shocking – it must be both surprising and believable with the reader saying at the end of the book: Ah, I should have seen that coming but I didn't." –Liv Constantine
"My advice to beginning authors: Write the type of fiction you love to read, plan each book or story ahead of time, don't rush it to completion, rewrite and rewrite and rewrite, and remember: rejection is a speed bump, not a brick wall!" —Jeffery Deaver
"Writing is a journey, not a destination. Never forget to enjoy the ride." —Lisa Gardner
"Writer's Block is a malady borne of missing research. Learn more about your setting, character, or central conflict and it goes away." –Cate Holahan
"Readers don't want to read about nice characters doing nice things, they want to read about conflicted characters doing difficult things." —Steven James
"No story will turn out exactly how you thought it would. It's like raising kids." —Tosca Lee
"Be a first-rate version of yourself and not a second-rate version of another author." —David Morrell
"What most people know about the FBI comes from books, TV, and movies. When authors of thrillers and police procedurals take the time to learn who the FBI is and what the FBI does, they make their stories as true to life as possible while capturing and engaging readers." —Jerri Williams
---
FAQ
How long is each class?
Each class will run about 90 to 120 minutes (an hour and a half to about two hours each), but it does depend on the instructor and often on the topic as well. Some classes might be a little shorter, and some might actually be longer.
Will the lectures/classes be recorded?
Yes, all of the sessions will be recorded. They are typically available within a few hours of the conclusion of the class, and we make those available to the students right away. You'll also have access to the recordings for at least 1 year after the class is over.
Do I have to be on Facebook?
No. The private Facebook group is designed so that you can easily find the links to the recording of each class and the handouts or any additional course materials, as well as to give you the chance to ask any additional questions that might come up after the class, or after watching the recording if you are not able to attend the live class. If you are not on Facebook, or just don't plan to use it for the Online Thriller School, just let us know and we will put you on a list of students who will receive the links to the recordings as soon as they are available. You will also be able to respond to that email with any questions you may have for that week's instructor.
Since I have very little writing experience, is there anything I should do to help me be better prepared for the classes?
The best thing(s) you can do to prepare would be to become familiar with each instructors' work. That does not mean that you have to read everything they've written, but it is helpful to know what they write, how they write, etc. Often the instructors will use examples from other authors work, but then there is usually a good deal of discussion regarding what that author writes him or herself, as well, and if you're familiar with their work it can certainly help you to not only understand what they write, but how they use the topics being discussed in their own writing. It can also be very helpful for you in formulating questions for that author.
---
2022 Schedule
9/13 – 2pm Eastern
Red Herrings, Reversals, and Twists
How to Keep Your Reader Guessing
Hank Phillippi Ryan
_____
9/20 – 2pm Eastern
Creating Compelling Characters
Steven James
_____
9/27 – 2pm Eastern
Setting: How to Create Your Story World
Mary Kubica
_____
10/4 – 2pm Eastern
FBI Myths and Misconceptions
Jerri Williams
_____
10/11 – 2pm Eastern
The Thriller Writer's Toolbox
Wendy Walker
_____
10/18 – 2pm Eastern
All About Dialogue
Tosca Lee
_____
10/25 – 2pm Eastern
How to Nail Structure
Clare Mackintosh
_____
11/1 – 2pm Eastern
Fundamentals of the Action Scene
Isabella Maldonado
_____
11/3 – 2pm Eastern
Bonus Panel (Thursday) – Ask Me Anything
with
C.J. Box, Meg Gardiner, Alex Segura and Sam Octavius, Panel Master
_____
11/8 – 2pm Eastern
First Pages: How to Hook Your Reader
Alex Finlay
_____
11/15 – 2pm Eastern
Pacing: How to Keep the Pages Turning
Jeffery Deaver
---
Instructor Bios
Jeffery Deaver

https://www.JefferyDeaver.com/

Jeffery Deaver is an international number-one bestselling author. His novels have appeared on bestseller lists around the world. His books are sold in 150 countries and translated into twenty-five languages. He has served two terms as president of Mystery Writers of America, and was recently named a Grand Master of MWA, whose ranks include Agatha Christie, Ellery Queen, Mary Higgins Clark and Walter Mosley.

The author of forty-three novels, three collections of short stories and a nonfiction law book, and a lyricist of a country-western album, he's received or been shortlisted for dozens of awards.

His The Bodies Left Behind was named Novel of the Year by the International Thriller Writers association, and his Lincoln Rhyme thriller The Broken Window and a stand-alone, Edge, were also nominated for that prize. The Garden of Beasts won the Steel Dagger from the Crime Writers Association in England. He's also been nominated for eight Edgar Awards by the MWA.

Deaver has been honored with the Lifetime Achievement Award by the Bouchercon World Mystery Convention, the Strand Magazine's Lifetime Achievement Award and the Raymond Chandler Lifetime Achievement Award in Italy.

His book A Maiden's Grave was made into an HBO movie starring James Garner and Marlee Matlin, and his novel The Bone Collector was a feature release from Universal Pictures, starring Denzel Washington and Angelina Jolie. Lifetime aired an adaptation of his The Devil's Teardrop. NBC television recently aired the nine-episode prime-time series, Lincoln Rhyme: Hunt for the Bone Collector.

Back to schedule

Alex Finlay

https://alexfinlaybooks.com/

Alex Finlay is the author of the 2021 breakout novel, Every Last Fear, and one of 2022's most-anticipated thrillers, The Night Shift.  His work has been an Indie Next pick, a LibraryReads selection, an Amazon Editor's Best Thriller, as well as a CNN, Newsweek, E!, BuzzFeed, Business Week, Goodreads, Parade, PopSugar, Scribd, and Reader's Digest best or most anticipated thrillers of the year. Alex's novels have been translated into seventeen languages, and Every Last Fear is in development for a major television series.

Back to schedule

Steven James

https://www.StevenJames.net/

Steven James is the bestselling, critically acclaimed author of eighteen novels that have won or been shortlisted for more than a dozen national and international awards. His thrillers have been praised by Suspense Magazine, Booklist, and the New York Journal of Books and received starred reviews from both Library Journal and Publishers Weekly, who called his work "thought-provoking" and "riveting." When he's not writing, he teaches storytelling at events around the globe and hosts the weekly podcast, The Story Blender.

Back to schedule

Mary Kubica

https://marykubica.com/

Mary Kubica is a New York Times bestselling author of suspense thrillers including The Good Girl, The Other Mrs., and Local Woman Missing. Her books have been translated into over thirty languages and have sold over two million copies worldwide. She's been described as "a helluva storyteller" (Kirkus) and "a writer of vice-like control" (Chicago Tribune), and her novels have been praised as "hypnotic" (People) and "illuminating" (L.A. Times). She lives outside of Chicago with her husband and children.

Back to schedule

Tosca Lee

https://ToscaLee.com/

Tosca Lee is the award-winning, New York Times bestselling author of eleven novels including A Single Light, The Line Between, The Progeny, The Legend of Sheba, Iscariot, and the Books of Mortals series with New York Times bestseller Ted Dekker. Her work has been translated into seventeen languages and been optioned for TV and film. She is the recipient of two International Book Awards, Killer Nashville's Silver Falchion (beating another of her books in the same category for the win), and ECPA Fiction Book of the Year—among others. A notorious night-owl, she loves movies, playing football with her kids, and sending cheesy texts to her husband. You can find Tosca on social media or hanging around the snack table.

Back to schedule

Clare Mackintosh

https://claremackintosh.com/

Clare Mackintosh is the multi-award winning author of five bestselling novels. Translated into more than forty languages, her books have sold in excess of two million copies worldwide, have been New York Times, USA Today, and international bestsellers, and have spent a combined total of 64 weeks in the Sunday Times bestseller chart. Her latest thriller, Hostage – a locked room thriller set on a 20-hour flight – was a Barnes & Noble pick of the month, and this fall sees the launch of a murder mystery series, beginning with The Last Party.

Back to schedule

Isabella Maldonado

https://isabellamaldonado.com/

Wall Street Journal bestselling author Isabella Maldonado wore a gun and badge in real life before turning to crime writing. A graduate of the FBI National Academy in Quantico and the first Latina to attain the rank of captain in the Fairfax County Police Department just outside DC, she retired as the Commander of Special Investigations and Forensics. During more than two decades on the force, her assignments included hostage negotiator, department spokesperson, and precinct commander. She uses her law enforcement background to bring a realistic edge to her writing, which includes the bestselling FBI Special Agent Nina Guerrera series (soon to be a Netflix feature film starring Jennifer Lopez) and the award-winning Detective Veranda Cruz series. Her books have been translated into 20 languages.

Back to schedule

Hank Phillippi Ryan

https://HankPhillippiRyan.com/

Hank Phillippi Ryan is the USA Today bestselling author of 13 thrillers, winning the most prestigious awards in the genre: five Agathas, four Anthonys, and the coveted Mary Higgins Clark Award. She is also on-air investigative reporter for Boston's WHDH-TV, with 37 EMMYs and dozens more journalism honors. Book critics call her "a master of suspense," "a superb and gifted storyteller," and she's the only author to have won the Agatha in four different categories: Best First, Best Novel, Best Short Story and Best Non-Fiction. Her newest is Her Perfect Life, a chilling psychological standalone about fame, family, and revenge. It received starred reviews from both Kirkus and Publishers Weekly, calling it "a superlative thriller." B.A. Paris says, "Shocking, suspenseful… kept me guessing until the end." and Julie Clark says, "You will read this in one sitting!" It is now nominated for the Agatha Award for Best Contemporary Novel. Her next is The House Guest, coming February 2023.

Hank is a founder of MWA University, host of CRIME TIME on A Mighty Blaze, and co-host of First Chapter Fun and The Back Room. Visit Hank online at HankPhillippiRyan.com, on Twitter @HankPRyan, on Instagram @hankpryan and Facebook at HankPhillippiRyanAuthor.

Back to schedule

Wendy Walker

https://www.wendywalkerbooks.com/

Wendy Walker is the author of the psychological suspense novels All Is Not Forgotten, Emma In the Night, The Night Before, Don't Look For Me and American Girl. Her novels have been translated into 23 foreign languages, topped bestseller lists both nationally and abroad, and have been optioned for both television and film.

Wendy holds degrees from Brown University and Georgetown Law School, and has worked in finance and several areas of the law. As a former family law attorney with training in child advocacy, Wendy draws from her knowledge of trauma and psychology to write compelling and complex characters and stories.

Back to schedule

Jerri Williams

https://JerriWilliams.com/

Jerri Williams, Retired Agent, Author & Podcaster, has always been a storyteller and, after serving 26 years as a special agent with the FBI, she has plenty of stories to tell. During most of her Bureau career, she worked major economic fraud investigations and is amazed at the schemes con-artist and corrupt corporate officials devise to steal other people's money. She has also had the opportunity to work bank robberies and drug investigations. The one thing she knows for sure is, "With a gun, they can steal hundreds. With a lie, they can steal millions." Jerri received numerous awards throughout her career, including four United States Attorney Awards for Distinguished Service. Being interviewed and appearing on CNBC's American Greed in the episode—When Greed and Giving Collide—was a highlight of Jerri's career. Jerri is on a mission to show the public who the FBI is and what the FBI does through her books, podcast, and blog. In Jerri's non-fiction book FBI Myths and Misconceptions: A Manual for Armchair Detectives, she debunks the top 20 clichés and misconceptions about the FBI in books, TV, and movies, and provides a reality check regarding FBI procedures. Throughout the fun- and fact-filled book, she includes quotes from retired agents about how the FBI really works and reviews popular films and fiction featuring FBI characters. The entertaining companion book with advanced FBI themes, FBI Word Search Puzzles: Fun for Armchair Detectives is also available. She is under contract as a technical consultant for major TV networks and production companies wanting to create authentic FBI dramas and characters. Using her prior professional experiences with scams and schemers, she also writes crime novels. Her FBI Philadelphia Corruption Squad series—Pay To Play, Greedy Givers, and Spoiled Sport (coming soon)—features a strong but flawed female FBI agent protagonist with a troubled past. Her books are available as ebooks, paperbacks, and audiobooks, wherever books are sold. Jerri is also the producer and host of FBI Retired Case File Review, a true crime podcast where she interviews retired FBI agents about their high-profile cases and careers. With more than 200 episodes downloaded nearly 5 million times, her listeners are from around the world. FBI Retired Case File Review can be accessed on Jerri's website, Apple Podcast, Google Podcast, Spotify, Pandora, and other popular podcast apps, as well as YouTube. You can learn more about Jerri Williams, her books, and her podcast at www.JerriWilliams.com.

"What most people know about the FBI comes from books, TV, and movies. When authors of thrillers and police procedurals take the time to learn who the FBI is and what the FBI does, they make their stories as true to life as possible while capturing and engaging readers. Using creative compromises to move stories forward, create conflict, and entertain is acceptable. Relying on common cliches, misconceptions, and inaccurate information is not."—Jerri Williams – retired FBI agent, author, and podcaster

Back to schedule