Member Benefits & Promotional Opportunities
The "Members Only" section of this website includes information on a wide range of benefits and promotional items, including how to submit your book to ITW's monthly publication The Big Thrill. The full list appears below. To renew your membership please use the "Members Only" drop-down menu in the upper right side. Some of the major items on the list also appear on this menu.
Promotional Opportunities for Members
Member Discounts
---
Member Benefits

Getting Your New Print Release in The Big Thrill
Do you have a new book about to be released? If so, we would like to feature it in our monthly magazine, The Big Thrill. Your book news will also be a part of our Big Thrill email blast sent to more than 27,000 thriller fans around the world including readers, booksellers and librarians.
To be eligible for an original interview or feature story, you must be an active ITW member (traditional or indie published) and your book must be an original hardcover, original trade paperback, original mass market paperback, or original e-book. No reprints or reissues please.
Just fill in the Book Submission Form (Password: ITWm3mber), attach images of yourself and your book cover, and click the "submit" button. Your book news will be seen by thousands of thriller fans around the world.
Our general guidelines are as follows:
1. In order to give our staff time to prepare properly for your article (they are working authors, too), you must submit your book at least 2 months in advance of your book's release month, calculating from the first day of the month. For example, a book coming out on June 20 must be submitted by April 1 (June 20 > June 1 > April 1). We encourage early submissions anywhere from three to six months in advance if you have all of the material. See #2 below for late submissions.
The Big Thrill is released on the first of each month (or, on occasion, the first weekday). We aim to run the story about your book the month the book is released (or the following month if your book is released late in the month). At any given time our staff are working on the next three or four issues, which are all in various stages of development.
2. To be included in the issue of your release month, we must have your material no later than two months in advance as explained above. ITW realizes that publishing and personal issues arise from time to time, and we want to allow some relief for those who miss the deadline. Should this happen to you, you can submit your book any time during the month of its release and still have a story appear in The Big Thrill. It will be scheduled along with other titles received at that time and appear two or three issues later. In other words, a June submission for a June book will appear in the August or September issue.
3. From each month's submitted books, we will randomly choose 10 authors to receive an interview about their books. If your book is chosen to receive a featured interview, a Contributing Editor will be in touch. If your book is not chosen for an interview, we will create a personal landing page for your book on The Big Thrill website. Your book will be listed in the table of contents that appears in the emailed newsletter and on the website. The table of content listing will link to your book's personal landing page. The landing page will contain the information you supplied us in the book submission form, including responses to a set of optional interview questions, should you choose to answer them. You can see an example by following this link.
4. If you have questions, please do not hesitate to contact Editorial@thrillerwriters.org.
---
Debut Authors Program
The ITW Debut Author Program supports our first-book members through the publication process by providing a friendly, interactive community for the purposes of networking, mentoring, promotion, and camaraderie. An author may apply to be included in the current or future class, if they are an active-status ITW author member, and their novel meets the following criteria:
published by an ITW-recognized publisher.
is their first novel published in any format, anywhere.
their book has been released since the previous ThrillerFest, or has yet to be published.
Non-fiction books will be considered on a case-by-base basis.
To apply for membership, click here or email our Membership Coordinator, Tori Eldridge.
---
The Codex Report
To read and/or download the carefully researched Codex Report on market conditions commissioned by ITW for its authors, CLICK HERE (active and associate members).
---
Volunteer
International Thriller Writers is a growing global community run by some of the most dedicated volunteers around. Are you interested in helping ITW? We need your skills, talents and expertise in all areas of the organization.
Please use our online form to tell us the areas in which you'd like to get involved. You'll have fun, meet and network with fellow thriller authors, and help make ITW the fastest growing, most innovative writer's organization on the planet. From everyone at ITW, thanks for volunteering!
---
Using ITW Logos
If you're an ITW member and proud of it, now you can tell the world by posting one of these nifty graphics on your blog or website. Just click on the images and/or links below and download them to your computer, then link the graphics to: https://www.thrillerwriters.org or https://www.thrillerfest.com
Download the ThrillerFest XVII logos:
Internet ready ThrillerFest XVII logos:
Download the ITW logo: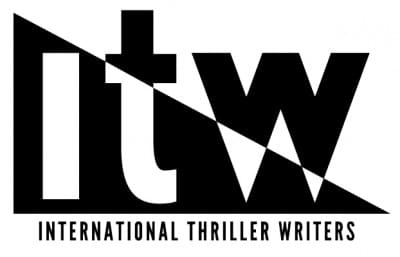 Internet ready ITW logos:
---
ITW Social Media
If you have an important event you're attending and you think our Facebook and/or Twitter followers would be interested, email Jillian at socialmedia@thrillerwriters.org. We just might buzz you.
Keep up with the latest news from ITW! Join us on Facebook, Twitter and Pinterest.
---
Promotional Opportunities for Members
Advertise in The Big Thrill
Authors and publishers! Looking for a great way to promote your new thriller?
Showcase your book to thousands of dedicated thriller fans, bookstore owners and librarians.
---
First Chapters Program
Each month, The Big Thrill features two excerpts to help readers find new authors.  This position costs $500, and only two authors are featured each month.
A dedicated page to host 1-3 chapters
An author photo and bio
Mention on the cover of The Big Thrill
Inclusion in the ITW's social media during the featured month.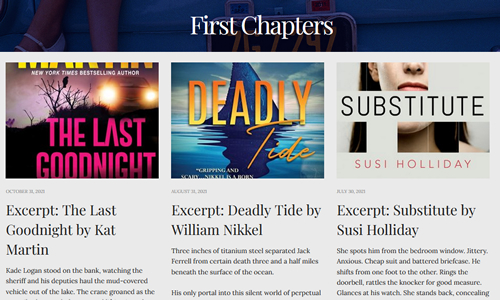 ---
Emailed Magazine
The Big Thrill emailed magazine is emailed on the first of each month to approximately 27,000 subscribers. All prices monthly; ads rotate out on the first of the month.
Top Banner: $675 (600px wide by 113px high, no GIF animation).
Sidebar Ad: $400 (180px wide by 300px high).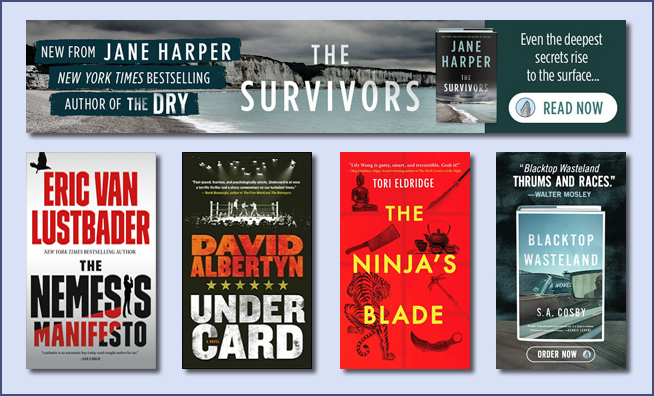 ---
The Big Thrill Website
The Big Thrill website is read by approximately 30,000 unique users, with over 200,000 page views per issue. All prices monthly; ads rotate out on the first of the month.
Large Sidebar Ad: $400 (300px wide by 175px high).
Small Sidebar Ad: $200 (125px wide by 190px high).
---
Bundles & Add-ons
Receive a 10% discount on the newsletter and website positions when placing ads for the same work in a single month. Want to create a multi-month campaign?  Please reach out to discuss!
The Social Media Boost is available only as an add-on to a newsletter or website position, and includes three Facebook mentions and four tweets on ITW's social media accounts. The cost is $100.
---
Getting Started
Please reach out to BigThrillAd@thrillerwriters.org to reserve your desired month and position. All ads are sold on a first-come, first-served basis.
You can produce your own artwork or we'll put you in touch with a designer who can create your ad for a $125 fee. Formats: 72dpi JPG or GIF (animation accepted, except on newsletter Top Banner).
All advertising is accepted at the sole discretion of the International Thriller Writers (ITW). Publication of advertising does not constitute an endorsement by ITW. ITW is not liable for any products or services advertised. Any liability is limited to refund of ad fees collected.
---
The New Big Thrill Book Giveaway
Get even more publicity by donating an autographed copy of your new book to our monthly giveaway contest. The monthly winners of the drawing are selected at random from our subscriber database, and both the winners and books are announced in monthly edition of The Big Thrill, as well as throughout ITW's social media channels. You'll gain new fans, and solidify the loyalty of current ones, and give even more incentive to non-subscribers to sign up. To participate, please send one copy of your book, preferably signed, to:
The Big Thrill Book Giveaway,
c/o Dun & Martinek LLP,
324 I Street,
Eureka, CA 95501
---
Submit Your Book Video
To submit your book video for inclusion in The Big Thrill's website video collection, CLICK HERE (active and associate members).
---
Interviews, Reviews, Guest Blogging & More
(open to both Associate and Active-Status ITW Members)
The following individuals and organizations offer interview and guest blogging opportunities to ITW members.
Mystery Scene Magazine Review
Submit your book to be considered for a review in Mystery Scene. The magazine covers paperback originals, specifically thrillers. Because the magazine has a very broad definition of thrillers, don't hesitate to send something that you might consider science fiction, fantasy or horror, as long as it demonstrates certain elements of thrillers. Contact Hank Wagner a minimum of 3 to 4 months in advance of your release, if possible, at HankW26159@aol.com or 131 East Main St. Rockaway, NJ 07866.
RT Book Reviews
Opportunities abound on the new and improved RTBookReviews.com for author promotion! Within the new site are microsites with several sections where ITW members are invited to contribute content including an Author Profile Page, Author home page, book pages, aspiring author page and the RT convention Microsite. Check out the pdf on the ITW website for contact information, and to see the complete list of FREE promotion opportunities.
Blog Q&A
Authors looking for a fun place to promote their work should check out Richard Ehisen's blog the OpenMic , which features his Q&As with authors and writers of all kinds. Some recent subjects include NYT bestsellers like Jonathan Maberry, RL Stine, Alexandra Sokoloff, Susan Crawford, Neal Griffin and Peter Abrahams. A journalist by trade, Ehisen has interviewed thousands of people over the last 20 years years, but writers are definitely his favorite. If you are a published thriller author interested in sharing some insights into your work and how you do what you do, contact him at richardehisen@gmail.com.
Guest Blog
Thriller Award-nominated author Nicholas Kaufmann is excited to announce "The Scariest Part," a recurring, guest-written feature on his blog in which authors, comic book writers, filmmakers, and game creators discuss what scares them most in their latest works of horror, dark fantasy, dark science fiction, and suspense. Any interested ITW authors are invited to take part. The guidelines for being featured on the blog can be found here.
Blog Book Review
ScienceThrillers.com is a book review and blog site that specializes in thrillers with scientific, technical, or medical themes. ScienceThrillers invites ITW members to guest post about books (both fiction and nonfiction) that fit in this genre. The site also hosts book giveaways on behalf of authors. If you're trying to reach an audience that's interested in science and technology, contact amy@sciencethrillers.com.
Blog Interview
Richard Godwin's Chin Wags at the Slaughterhouse is a series of interviews with crime and horror authors. He has interviewed some top names. Each interview is different and always popular. Each one is honed to the author concerned. Chin Wags At The Slaughterhouse gets a great deal of traffic, and all of Richard Godwin's interviewees have said they are delighted with the interest in their works that has resulted from their appearance at The Slaughterhouse. To request an interview, email Richard. Richard is offering ITW members a 15% discount on advertising on his site. Prices range from $25 upwards depending on placement and length of campaign. Contact Richard to find out about rates and types of ad.
Blog Interview
Sea Minor has been running a very successful series of interviews with writers and those connected with writing called 'Dancing With Myself'. The format involves people interviewing themselves and, therefore, asking the questions they'd like to hear. So far the range of participants has been amazing—there have been the many-times-published, editors, the Man Booker shortlisted, publishers and the rising stars of the crime/thriller/noir genres. Check it out and if you're interested in taking part, email Nigel (Sea Minor) Bird via the blog with a brief cv and statement about why you'd like to be involved.
Reader's Entertainment Magazine (www.ReadersEntertainment.com) has been thrilling and informing readers for over a decade. All opportunities for ITW members are free. You can participate in one or all of the following –
Guest Blog
Sneak Peek Feature (A reader favorite)
Author Interview
Submit an article (about travel, recipes, conventions, etc.)
All material must be geared toward readers, not other writers.
Contact Sheila English (info@cosproductions.com)
---
Member Discounts
Advertising Discounts
Suspense Magazine
Suspense Magazine is offering ITW members a variety of discounts, including a free subscription, a $125.00 full color ad in the magazine, as well as radio spots and ads on the website. In addition, authors can submit blog posts or book excerpts for possible publication on the website. Email John Raab at editor@suspensemagazine.com for details.
TopShelf Magazine
See why New York Times & #1 International Bestselling Author, STEVE BERRY says, "Every librarian, bookseller, and writer should be reading TopShelf Magazine." And why the internationally acclaimed author of FIRST BLOOD (the book that introduced the world to RAMBO), DAVID MORRELL says, "TopShelf Magazine is a must-read for librarians, booksellers, and authors. Beautifully designed… packed with news, interviews, and professional tips about what's happening in the book world… This magazine is something to look forward to each month." TopShelf Magazine is offering a very special discount, exclusively for ITW Members: 50% off any advertising or author services found at TopShelfMagazine.net (this includes magazine advertising), at any level, at any time, for any duration, for so long as you remain a member of ITW. To receive your discount, please contact keith@topshelfmagazine.net.
---
Audiobooks
Sandman Studio Productions
Audiobooks Rock! Put your story right into the head of your fans by having it professionally recorded into audiobook format. Sandman Studio Productions would love to help you achieve that goal by offering 15% off recording and production services for ITW members. That's a potential savings of up to $750 on your audiobook.
Award winning voice actor Basil Sands has recorded for many Bestselling ITW authors and wants to extend a special deal to all ITW members. Go to www.sandmanproductionsak.com to learn more or email info@sandmanproductionsak.com and mention this ad.
Spoken Word Inc.
Spoken Word Inc., a brand new producer of audiobooks, is offering ITW members 10% off their already low prices. Spoken Word works with a huge pool of talented voice actors (male and female) to select from, and offers amazing introductory prices. ITW members are invited to have their work transformed into a rapidly growing medium–30% per year according to the Audio Publishers Association (APA). Spoken Word partners with Audible.com, Amazon, and iTunes as well as distributors including Ingram and Baker and Taylor.
Go to www.spokenwordinc.com to learn more, or contact Ben at Ben@spokenwordinc.com or by calling 917-975-8583.
---
Book Discounts
Author, Author!
ITW member Laura Hayden at Author, Author! is offering all ITW members a chance to purchase their books in bulk at a deep discount. Laura's Author Purchase Program is outlined on her website. Questions? Email her at authorauthor@prodigy.net.
Scene of the Crime Books
Scene of the Crime Books is offering ITW members 10% off their purchases and free shipping to anywhere in the United States. To take advantage of this offer, contact them at murdermysterybooks@yahoo.ca or call 905 646 0214.
---

Book Tours
Partners In Crime Tours
Partners In Crime Tours (PICT) is a virtual PR tour company, specializing in tailor-made virtual tours for mystery, suspense, thriller and crime writers. Via a network of reviewers and bloggers, PICT can arrange reviews; personalized packages of guest spots, author interviews and giveaways on popular book review blogs and other authors' personal websites. In addition to the PICT network of blogs, their hosts upload reviews to Amazon, Barnes & Noble, GoodReads as well as publicizing via Facebook and Twitter. PICT hosts are pre-screened and are all fans of the genre, giving authors an instant advantage in reaching the right audience, promoting their book, attracting new fans and increasing sales.
PICT is offering discounts to members and associate members of ITW, of 10% off of the regular price of tour packages. Each package includes an individual tour banner, tour page, reviews, showcases, guest posts, interviews, etc. (1 month tour-minimum 10 stops; 2 month package-minimum 20 stops). To explore your options visit their website www.partnersincrimetours.net, or contact Cheryl Masciarelli, to see what PICT can do for you.
---
Editing / Book & Web Design
AuthorFire
AuthorFire is a full-service design and promotional studio created for authors by authors. Our founder has worked for over ten years in the design and marketing fields and is also an author. We understand the challenges you face as a writer and can help you overcome them. Together, we can showcase your talent to the world. Our services include: COVER DESIGN, WEB DESIGN, VIDEO SERVICES, SOCIAL MEDIA and NEWSLETTERS, APP DESIGN, DEVELOPMENTAL EDITING, and PROMOTIONAL MATERIALS.
AuthorFire is offering 15% off on all services for ITW members and 25% off for any member of the ITW Debut Author Program.
Reedsy
Reedsy helps authors publish beautiful, high-quality books by connecting them to some of the world's best editors, proofreaders, designers, marketers and website designers. Only 3% of the freelancers who apply to be listed make it to the marketplace, and almost all of them come from traditional publishing.
Whether you're looking for an editor to polish your book before sending it off to agents, a cover designer for your next indie release, or a book marketer to boost your brand recognition, you'll find the right professional on Reedsy. And as an ITW member, you get access to an exclusive $50 discount on your first collaboration if you sign up through this link: https://reedsy.com/loves/itw
Editing
ITW members SPECIAL OFFER: Effective, comprehensive critique and line edit of your novel or short story manuscript –25% off. Contact Teresa Crumpton at editor@writing-excellence.com.
FAR Creative – Website Design
FAR Creative is a Brooklyn-based creative services and web development agency. We're designers and builders of web sites that enable authors and publishers alike not only to promote books and publish news updates, but reach and connect with their readers and peers. By utilizing intuitive yet powerful content management system like WordPress, we deliver sites that are easy to maintain and require very little advanced user training. To see our portfolio, please visit our website.
ITW members SPECIAL OFFER: FAR Creative offers exclusive 10% off web site design and development for ITW members. To get more details on this offer and a no-obligation price quote please contact us at info@getfar.com.
27 Sound Entertainment – Website Design
Matt Stine and his 27 Sound Entertainment team build appealing and successful web sites for authors. They showcase your books, display your latest news, and most importantly, help build and nurture a community of readers—without costing a fortune. Web presence and Online Promotion are at the heart of every successful book release campaign. The web sites built by Matt and his team provide you with elegant and custom-looking designs. And your site will be simple and easy to update. No outside assistance necessary.
"Matt designed a whole new site for me. Kids and adults come to the site—and stay. It's a wonderful showcase for my books and for keeping in touch with my readers." —R.L. Stine
Matt Stine and 27 Sound are offering a 50% discount to any ITW member, so be sure to take advantage. Email info@27sound.com now to get started on your brand-new web site.
---
Marketing
Bookstr
Get Your Books in Front of Bookstr's Audience of 1.5 Million
At Bookstr, we believe authors are the rockstars of the literary world. With authors at the center of our vision, Bookstr is the perfect platform to promote your books and your brand to our highly engaged audience of 1.5 million. Bookstr creates fun, shareable book-related video and editorial content, graphics, giveaways, author interviews and more, to build your fanbase and get you and your books front and center with our audience, aligned with the biggest names in the business.
We have worked to promote every type of author, at every stage of their careers, from self-published debuts to international bestsellers, and everyone in between. We know that once a book-lover gets to know an author, they are motivated to read that author's work. So whether you're just starting out, or you're finishing off book fifty, we want to promote you and your book.
Our custom videos, articles, giveaways are amazing ways to gain fans and get the word out. Our giveaways average over a 1K entries, which guarantees as many emails for your email lists, as well as social media follows. Our Facebook Live interviews that average 10,000 plus view also allow the author to connect to Bookstr's fanbase while growing your audience by thousands. In addition to brand new authors, our Facebook Lives have featured the likes of Peter James, Karin Slaughter, Meg Wolitzer, Daniel Handler, and David Morrell. So whether you're a bestseller and brand new, we're here for you.
We're offering 25% off to all ITW members year round, including any Thrillerfest coverage you need, and we can't wait to work with you. Click here to check out how Bookstr can get you in front of millions. Contact scott@bookstr.com for more details!
BookTrib
Reach Readers with Three Fast, Effective and Affordable Marketing Opportunities
Looking for some marketing punch for your recent or upcoming thriller?
ITW's partner BookTrib.com is a discovery zone for readers and an editorial and marketing engine for authors, with three fast, affordable and effective programs to get authors on the reader radar:
Promote Your Book includes a full-length book review, author profile page, social media exposure to our more than 50,000 readers and more;
 is a syndicated book column distributed to 10,000 local newspapers that guarantees tremendous pickup and millions of impressions;
Book Club Booster Program  gets your book in the hands of 50 book clubs that meet in-person monthly, supplemented with an email to 100,000 book club members and avid readers.
As an ITW member you will receive 5 percent off for any one program and 10 percent off if you buy all three. Contact jim@booktrib.com.
BookBites is a syndicated book column distributed to 10,000 local newspapers that guarantees tremendous pickup and millions of impressions
AuthorBuzz
Write to AuthorBuzz and mention ITW for to get a free push to over 95,000 kindle readers when you buy any of our marketing plans.
"There's a simple advertising maxim that applies to publishing: 'Tell people over and over that a book exists—and many of them will buy it.' The trick is in knowing how to tell them, where to tell them, and for how long. That's where AuthorBuzz?.com? earns its keep. Listen to them. You won't be sorry." —NYT bestseller Steve Berry.For over twelve years
AuthorBuzz has been the most cost effective and marketing company for authors and publishers alike. Our clients include David Morrell, Linda Faristein, Heather Graham and publishers like S&S, SMP, Hachette, Algonquin and more.
COS Productions
COS Productions is the #1 producer of Book Trailers, commercials and other video marketing in the United States and has been a sponsor of ThrillerFest for over a decade. Specializing in video production for clients such as ITW, National Geographic, Tor/Forge, Penguin/Random House, and many individual authors, COS also offers strategic video distribution as part of the video package. Choose one of our packages from the site or give us your budget and we'll give you a proposal. ITW members receive a free distribution upgrade and a 10% discount. View a small sample of the over 1700 videos we've produced since 2001 – Video Samples. A visual book synopsis sent out to readers everywhere! Contact us at info@cosproductions.com for more information.
Murder & Mayhem
Murder & Mayhem, a community for mystery & thrillers fans, is delighted to offer ITW members a 15% discount on all content marketing and advertising opportunities, including dedicated emails, display ads, sponsored content, deal promos, giveaways, and more! Murder & Mayhem reaches 135K consumers via website, email and social media. If you're interested in promoting your title, series or author to this enthusiastic and targeted audience, download our media kit or email us for recommendations specific to your goals. We look forward to working with you!
The Lineup
The Lineup, a community for readers of dark and creepy thrillers, is delighted to offer ITW members a 15% discount on all content marketing and advertising opportunities, including dedicated emails, display ads, sponsored content, deal promos, giveaways, and more! The Lineup reaches 800K consumers via website, email and social media. If you're interested in promoting your title, series or author to this enthusiastic and targeted audience, download our media kit or email us for recommendations specific to your goals. We look forward to working with you!
The Everywhere Store – Editing, Design, and Marketing Liaison Service
Earn Up To Twice as Much Money on Every Book – and Capture Your Readers' Email Addresses
The Everywhere Store, Powered by Zola, enables anyone to sell any book in any format on any site – and earn more than twice what you'd make as an Amazon Affiliate. This transformative, easy to launch service empowers you to sell any hardcover, paperback, ebook, digital or physical audio books – and split the retailer's cut 50/50 with Zola. Add that to your existing royalties and you can more than double your net earnings. Contact michael@zolabooks.com or visit here to start earning more on every book sale – AND capturing email addresses from your readers – so you can reach them directly when you publish your next book.
Your Elite Book Promotion Access. ITW members can now access 602,297+ readers at discounted prices. This service is run by an ITW member. It includes large scale email promotions, Facebook & Twitter promotions. ITW members have exclusive access to the Featured Author Service here, waiving the normal membership fee and suitability check. All services include a 60 day money back guarantee, unique for this type of book promotion service.
---
Reviews
Manhattan Book Review / Kids' Book Buzz
To celebrate the launch of the Manhattan Book Review and Kids' BookBuzz, [City] Book Review is offering a discount on all Sponsored Review services to ITW members for a limited time. Take this opportunity to receive insightful and honest feedback on your working manuscript or finished work. There has never been a better time to promote yourself on our high-traffic websites. For more information or to purchase a review at this discounted rate, visit the Sponsored Review page on any of our book review websites ( sanfranciscobookreview.com, manhattanbookreview.com, kidsbookbuzz.com).
Use THRILLER20 to save $20 on a Standard sponsored review and use THRILLER40 to save $40 on an Expedited review.
---
Conferences, Workshops & More
Gotham Writers Workshop
Gotham Writers Workshop offers a special 10% discount to all ThrillerFest members on our creative writing classes, in NYC or online.Call 212-974-8377 and mention "ThrillerFest" when registering.
IBPA – An Organization For Indie Publishers And Author Publishers
Publishing Independently – or thinking of doing so?  With educational programs, industry advocacy, and tools for success, the nonprofit Independent Book Publishers Association (IBPA) empowers independent publishers and author publishers to create their most professional work, save thousands of dollars with discounts on everything from shipping to marketing, sell more books, and be part of a wonderful and supportive independent publishing community. From now through the end of October, International Thriller Writers members get $20 off membership in IBPA using the code: THRILLER.
---
Writing Tools
Writers Market
WritersMarket.com, an online version of the Writer's Market books published by Writer's Digest for many years, is a powerful tool for finding publishers, agents, markets, and other opportunities to help writers be successful. Writer's Market would like to extend a special discount just for ITW members for WritersMarket.com. Take 50% off any subscription package with codes Thrillers50monthly, Thrillers50sixmonths and Thrillers50annual. The codes do not expire.
ITW Community
patrons
sponsors
supporters
Actives

Sandra Brannan

Clive Cussler*

Dirk Cussler*

Shane Gericke*

Faye and Jonathan Kellerman*

John Lescroart

Joanie McDonell

Karin Slaughter

Larry D. Thompson

Actives

Kathleen Antrim*

David Baldacci*

Neal Baer

Steve Berry*

J. Jackson Bentley

Gary Braver*

Sandra Brown*

Dale Brown*

John Case*

Lee Child*

James Comey

Michael Connelly

Glenn Cooper

Richard Curtis*

Jack F. Du Brul*

David Dun*

Joseph Finder

Brian Garfield*

Tess Gerritsen*

Leslie Glass*

Jeff Gunhus

Vicki Hinze*

Lisa Jackson

Alex Kava*

Raymond Khoury

Deborah LeBlanc

Eric Van Lustbader*

D. P. Lyle M.D.*

Gayle Lynds*

Steve Martini

Brad Meltzer

David Morrell*

Katherine Neville*

Michael Palmer (2004-2013)*

James Patterson*

Andrew Peterson

Douglas Preston*

Lissa Price

Keith Raffel

Christopher Reich*

James Rollins*

M.J. Rose*

JoAnn Ross

Hank Phillippi Ryan

John Saul*

Andy Siegel

Susan Arnout Smith

R.L. Stine*

Brad Thor*

Lisa Unger

Paul Vidich

Associates

Maria Carvainis

Leisure Books*

JK Franko*

Ed Mitchell*

Henry Morrison*

Adrian Muller*

Bill Sewell

Tor/Forge Books*

Your Book Is Your Hook!

Actives

Steve Alten*

Ashok Banker

Ted Bell*

Emily Benedek

Janet Berliner-Gluckman*

Gary Birken

Mike Bond

Sandra Brannan

Allison Brennan

Mike Brogan

Jan Burke*

Lindsay Cameron

Lorenzo Carcaterra

Lincoln Child*

Stephen Coonts*

Brian D'Amato

B. J. Daniels

Nelson DeMille

Eileen Dreyer*

Joanna Elm

Linda Fairstein*

Anthony Flacco

Vince Flynn (2004-2013)*

Chris Fox

Joel Goldman*

Howard Gordon

Heather Graham*

Thomas Greanias

Gary Grossman

Humphrey Hawksley

Bonnie Hearn Hill*

Mark Imhof

Alan Jacobson

Judith Kelman*

Harley Jane Kozak

Jon Land

Dennis Lynds (2004-2005)*

Patricia McLinn

Michael McMenamin

Francine Mathews*

Nan McCann

Kyle Mills*

Twist Phelan

Christopher Rice*

Wendy Roberts

John Sandford

James Siegel*

Carl T. Smith*

Deborah Smith*

Taylor Smith*

L.A. Starks

Mariah Stewart*

Peter Straub*

Lee Strobel

M. Diane Vogt*

Thomas Waite

Stuart Woods*

Associates

Linda Adams*

Brilliance Audio*

Mike Brogan

Brian Godden

Steve Hadden*

Emory Hackman*

Inkwell Management, LLC*

Jennifer Kreischer

Mario Mastro*

Vicki Montet

Amy Rivers

Mike Trigg*